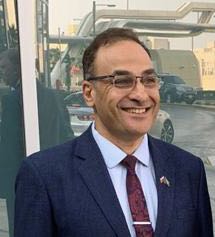 Hosni Emam

As the CEO & CMO of several international companies, Hosni is responsible for driving companies strategic & business interest and continuing to ensure that these companies remains the leader in the industry.

His current brief includes international arbitration counsellor, member in international human Rights organisation, and Arab law union, allow him to head critical institutional business for the companies. This includes creating & selling new products & solutions and managing relationships with some of the top worldwide companies / banks & financial institutions across the globe. In his current role, he is responsible for each company's forays into newer markets like South-East Asia, Middle East and Europe etc.

On the educational front, Hosni holds. bachelor degree in law, diploma in international commercial arbitration law, hold master degree in a Business Administration, On the personal front, he is passionate about Eco and sustainable products that can enhance our life and change the world, in his early career, he managed to open restaurant group and E-commerce website as an entrepreneur.

---
---
---
Contacts
+852 - 9740-9740

Address: FLAT/RM 7 BLK A EFFICIENCY HOUSE 35 TAI YAU STREET SAN PO KONG
Tel: +852 165 1157
Email: hosniemam@gmail.com
info@hosniemam.com
hosni@deeptech.engineering